Rorofin Stiebellsword was the captain of Gondor for twenty years during the tenth age.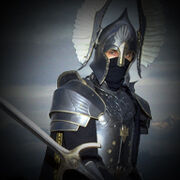 Rorofin was known for his bravery in battle, and was very cruel to soldiers who refused to fight. He is known as an idiot when he fought the almighty
Bakhira for
land, even though Bakhira was a basic friendly.
"Surrender now, great dragon! And I will not hurt you."
— Rorofin fighting Bakhira
Rorofin needed space to launch and attack, and so fought Bakhira the almighty dragon. Even though he didn't stand a chance, Rorofin stabbed Bakhiras leg, before being tossed 10 metres back and then burned.
Rorofin was often called " Rorofin the vain" as he was very full of himself.
Ad blocker interference detected!
Wikia is a free-to-use site that makes money from advertising. We have a modified experience for viewers using ad blockers

Wikia is not accessible if you've made further modifications. Remove the custom ad blocker rule(s) and the page will load as expected.