Magnuld Steelsinger
Dwarf
Biographical Information
Titles
Smith, Emissary of Drow and Dwarves
Position
Smith, warrior, emissary
Location
Red Mountains (formerly), Erebor (current)
Affiliation
Erebor
Language
Khuzdul, Westron, Drow (limited)
Death
(aged 183)
Family
Spouse
Unnamed wife (deceased)
Children
Unnamed son, Unnamed niece
Physical Description
Gender
Male
Height
5'3"
Hair color
White
Eye color
Gray
Clothing
Plate armor
Weaponry
War-axes
Magnuld Steelsinger is a competent warrior and blacksmith originating from the Red Mountains. He later moved to Erebor after the Dragon Dread, Smaug, had been killed by Bard of Dale where he opened up a weapon's forge. The extravagant quality of the weapons he created earned him the name "Steelsinger". He was also appointed as emissary between the Dwarves of Esgaroth and the Drow of Ilythiir.
Appearance
Edit
To be revealed...
Personality
Edit
To be revealed...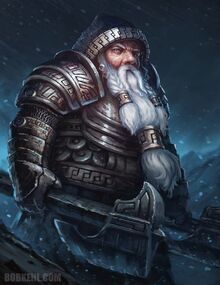 Ad blocker interference detected!
Wikia is a free-to-use site that makes money from advertising. We have a modified experience for viewers using ad blockers

Wikia is not accessible if you've made further modifications. Remove the custom ad blocker rule(s) and the page will load as expected.