Maethoriel Vaeriliel
Noldo
Biographical Information
Other names
Yendësirya ( Daughter of the River ) Mirëtâri ( Jewel Queen )
Titles
Princess of Ailinosto, Later called first High Queen of Ñoldor
Position
Princess of Mirkwood
Location
Ailinosto before the war- Woodland Realm, Mirkwood
Affiliation
Ñoldor and Teleri
Language
Quenya, Sindarin and Sylvan Elvish
Birth
TA 240
Audulë, Ailinosto
Sailed west
FO 121 (2902 Years old )
The Grey Havens
Notable for
Escaping from Mordor after being captive for hundred years
Family
House
House of Vaeril
Parentage
Vaeril and Caladwen
Siblings
Vehiron, Valaina, Maidhion, Maldor, Manwë
Spouse
Legolas Greenleaf
Children
Finris ( bastard ), Finror, Ithilwen
Physical Description
Gender
Female
Hair color
Brown
Eye color
Emerald Green
Weaponry
Claymores and swords, Elainya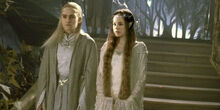 Ad blocker interference detected!
Wikia is a free-to-use site that makes money from advertising. We have a modified experience for viewers using ad blockers

Wikia is not accessible if you've made further modifications. Remove the custom ad blocker rule(s) and the page will load as expected.