Diera
Gondorian
Biographical Information
Other names
Lady Guard
Position
Guard
Affiliation
Herself
Language
Common/Westron, Sindarin (very limited)
Birth
March 23rd
Minas Tirith
Death
(aged 26)
Family
House
Unknown
Parentage
Unnamed mother Unnamed father (deceased)
Siblings
Unnamed older sister Unnamed older sister
Physical Description
Gender
Female
Height
171 cm
Hair color
Copper
Eye color
Gray
Weaponry
Short sword, bow
Diera
is a young woman who at times can be found residing in a small village situated somewhere in the southern parts of Ithilien. She once belonged to a rather prominent noble family within the walls of Minas Tirith as the youngest daughter out of three but has since left the Capital of Gondor to see more of Arda's foreign lands. She frequently travels the roads between
Ithilien
and
Harad
as an armed escort for wealthy merchants who desires safe passage through the wasteland between the two realms.
Appearance
Edit
Personality
Edit
Equipment
Edit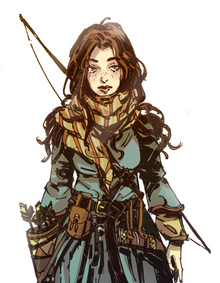 Ad blocker interference detected!
Wikia is a free-to-use site that makes money from advertising. We have a modified experience for viewers using ad blockers

Wikia is not accessible if you've made further modifications. Remove the custom ad blocker rule(s) and the page will load as expected.