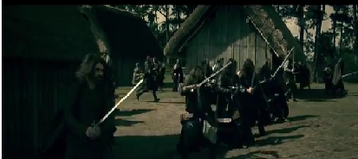 The Dúnedain of Arnor were one of the two great divisions of the descendants of the Númenóreans in Middle-earth.
The North-kingdom of Arnor had originally held the capital of High King Elendil at Annúminas, and the Dúnedain of that land were ruled for centuries by the descendants of Elendil's eldest son Isildur. After Isildur's death in TA 2, Arnor was ruled by his direct descendants, beginning with Valandil, his youngest son. Before the end of the first millennium of the Third Age, the land of Arnor fell into dispute between the sons of King Eärendur, and the Dúnedain who lived there became divided into three realms: Arthedain, Cardolan and Rhudaur. One by one, these kingdoms fell to war, plague, and assaults by the witch-realm of Angmar, until at last the Dúnedain of Arnor had become a dwindled and wandering people known as the Rangers of the North. Nonetheless, the line of Isildur was maintained through the Chieftains of this people. Aragorn II was Isildur's Heir through thirty-nine generations, and it was he who reunited the Kingdoms of the Dúnedain after three thousand years of separation.
Ad blocker interference detected!
Wikia is a free-to-use site that makes money from advertising. We have a modified experience for viewers using ad blockers

Wikia is not accessible if you've made further modifications. Remove the custom ad blocker rule(s) and the page will load as expected.