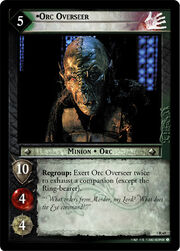 Biography
Edit
Before the start of
the Ring War
, Gazmog was a snaga chief of Fangorn. Later,
one of the nazgul
came to Gazmog, and commanded to go to
Isengard
. When Gazmog, with
Frûshkul
and
Gurbash
, entered the tower of
Orthank
, they went upstairs

to Saruman's chamber and he gived them first orders. Gazmog was a lumberjack in the Garden of Isengard. When there were no trees, Gazmog became a snaga-war-chief of the White Hand and he led snaga armies during
the battle of Hornburg
. He was killed by
Gandalf the White
, when he tried to slay
the wizard
.